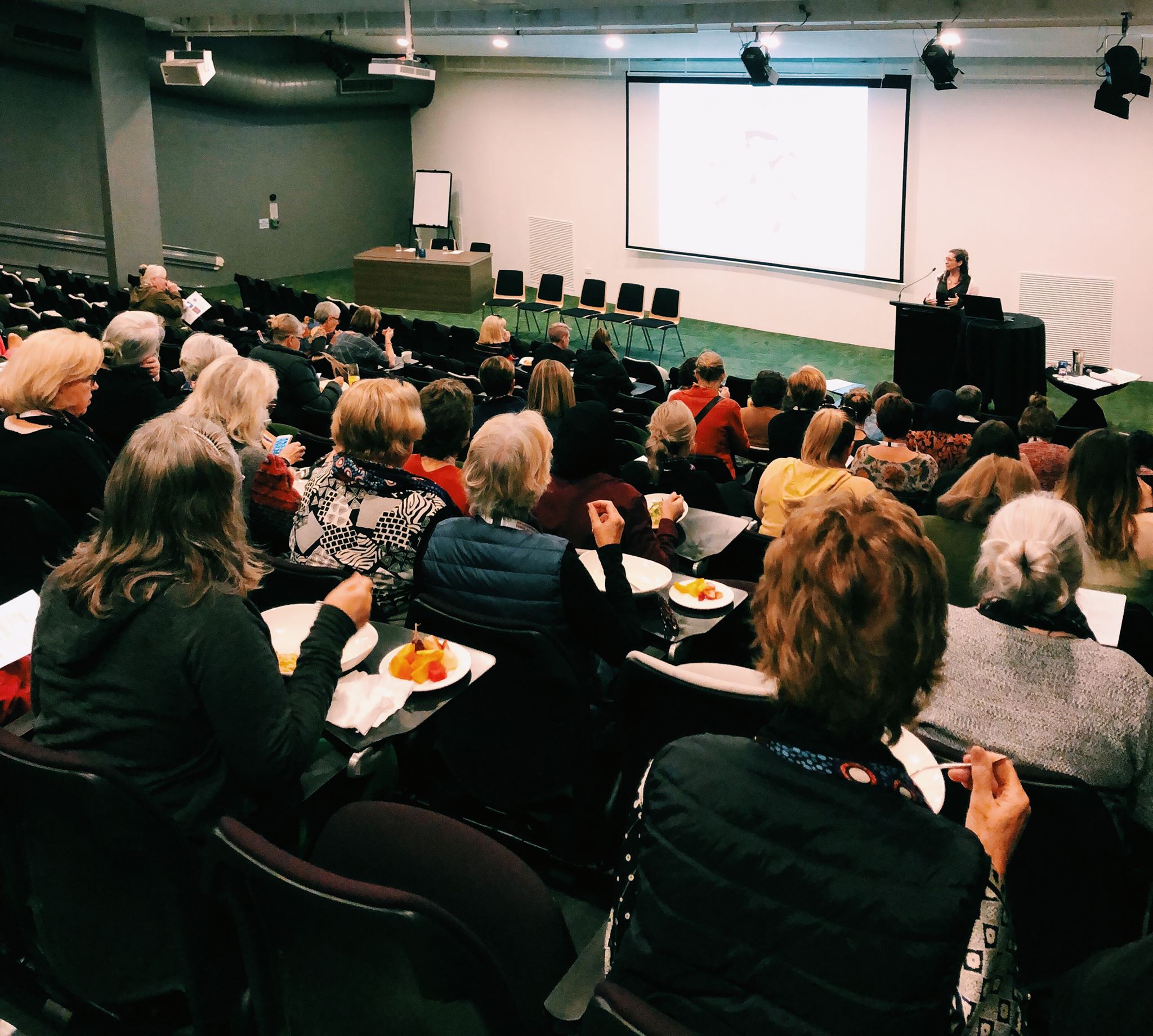 Key-Note Speaking & Health Professional Education
The intention behind my talks & presentations is to educate and inspire the audience – whomever they are. 
I'm super passionate about learning & gaining knowledge and over the years I've spent countless hours researching, reading, doing post-grad courses, attending seminars & conferences etc and I love sharing what I've learned. 
Through my role as Clinical Educator with Puremedic Health I've immersed myself in research & clinical insights in the field of gut health & the microbiome (across the life-span) & also specialise in pre-conception, pregnancy, post-natal, breastfeeding & infant microbiome. 
My presentations are engaging, entertaining and educational – the most common feedback "Wow, you're VERY PASSIONATE" 
Current accredited health professional education modules suitable for live events, conferences & workshops for modalities such as Midwifery, Obstetrics, Gynaecology, Lactation Consultants, Maternal Child Health Nurses, Hypnobirthers, Naturopathy, Nutrition, Dietetics, Osteopathy, Chiropractic etc;
 Gut Health & The Microbiome

 The Microbiome & Probiotics in Pregnancy & Lactation

 Or can be tailored to your event
Current online options via the First 1000 Days Online Program for Health Professionals – a comprehensive evidenced-based online course about Gut health & The Microbiome from Conception – 2yrs
 (accredited for CPD/CPE for most modalities).
Knowledge is power & with that we can greatly improve health outcomes for ourselves and future generations. 
---
What Others Say:
"Thorough & educational presentation – so relevant to midwifery!"
-Midwife, Launceston
"Thanks again for the talk last night, super interesting and hope inspiring"
– Midwife, Hobart
"I want to thank you for a very informative talk on the microbiome of pregnant women, lactation and infants, it was good to learn in an easy and comfortable format. Your workshop will help me with my pregnant mums"
-Naturopath, Rockhampton
"Fantastic, thanks Emma, you are a wealth of knowledge and this was a brilliant and inspiring session!"
-Midwife, Melbourne
"As both a midwife and a woman, I found this to be a wonderful presentation by Emma. Covering info on the microbiome, it's effects when it's well, how it suffers, what happens when it's not well, and how to care for it. I came away beaming with new evidenced based info, a renewed excitement for this aspect of care, and the potential for improved experiences for women."
-Public hospital midwife, Hobart
"I really enjoyed your talk, it had so much great information in it"
-Pharmacist, Hobart
"Thoroughly enjoyed it, I could listen to you talk all day, so fascinating"
-Midwife, ACM National Conference, Canberra
"I have had the pleasure of listening to Emma present on the latest research on the Microbiome and use of Probiotics a few times now and have been enthralled by her enthusiasm and knowledge on this subject. She is passionate but balanced in her approach and able to explain complex research findings. Whilst I am aware of her working for a company who produces Probiotics, the use of a specific product is not an obvious part of the presentation and the soft sell made everyone feel comfortable. I would have no hesitation in recommending her presentation to health professionals and the general public"
-Lactation Consultant, Launceston General Hospital